Diabetes in all its forms imposes unacceptably high human, social and economic costs on countries at all income levels. Since the publication of the first International Diabetes Federation Diabetes Atlas in 2000 successive editions have provided consistent evidence of the continuing growth in rates of diabetes incidence and prevalence world- wide. This 6th edition brings new evidence of the same kind, and carries a bitter but unavoidable message: despite the array of tools at our disposal to tackle the disease – effective drug therapies, advanced technology, ever-improving education and preventive strategies – the battle to protect people from diabetes and its disabling, life-threat- ening complications is being lost.
IDF's most recent estimates indicate that 8.3% of adults – 382 million people – have diabetes, and the number of people with the disease is set to rise beyond 592 million in less than 25 years. Yet, with 175 million of cases currently undiagnosed, a vast amount of people with diabetes are progressing towards complications unawares. Moreover, with 80% of the total number affected living in low- and middle-income countries, where the epidemic is gathering pace at alarming rates, the IDF Diabetes Atlas' latest figures provide a worrying indication of the future impact of diabetes as a major threat to global development.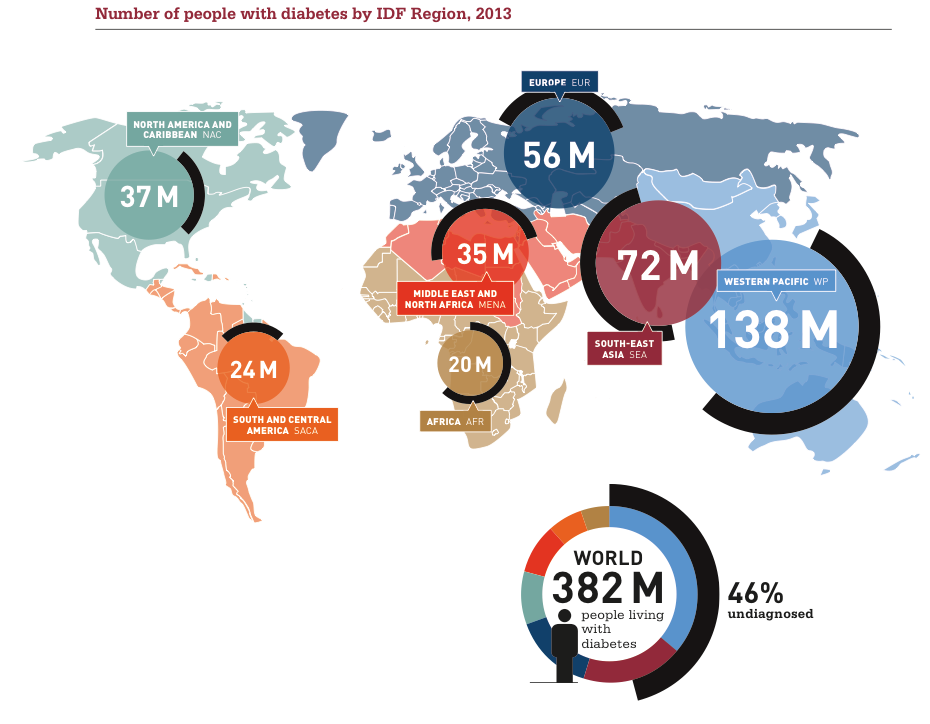 source : http://www.idf.org/sites/default/files/EN_6E_Atlas_Full_0.